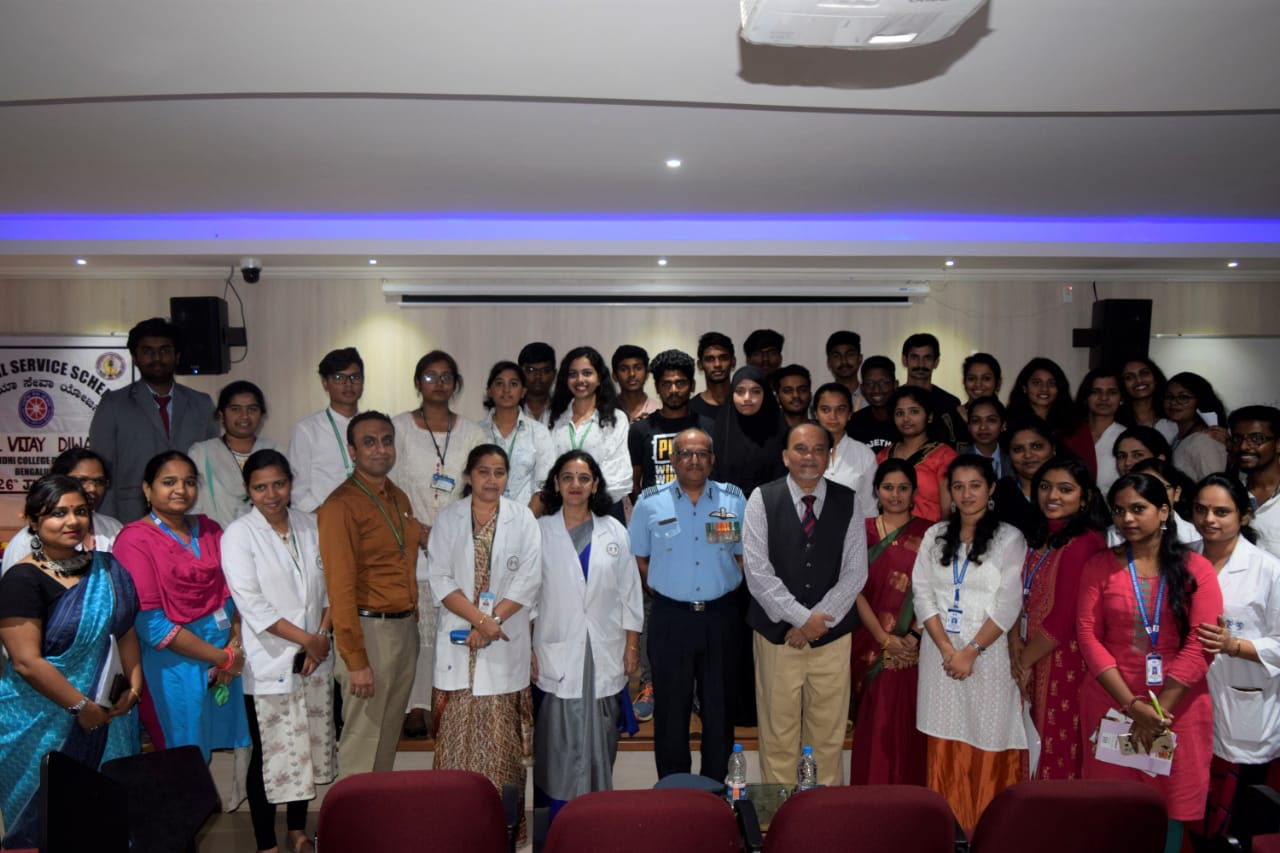 KARGIL VIJAY DIVAS ("Recounting the Peak of Indian Armed Forces Victory 20 years ago")
Date: 26th July 2019
Krupanidhi College of Pharmacy celebrated the 20th anniversary of the Kargil Vijay Diwas. The theme of this year's celebration was "Remember, Rejoice and Renew". On this day in 1999, the Kargil War, also known as the Kargil conflict, formally came to an end, with Indian soldiers successfully recapturing mountain heights that had been seized by Pakistani intruders. The celebrations began with the welcoming of our chief guest Group Captain Dr Mukund Mohan [Indian Air Force Officer], who was also a Kargil war veteran, by our beloved Prof. Prakash Mallaya [Director CPPA, Krupanidhi College of Pharmacy]. Thereafter we observed a moment of silence and lit candles to mourn the loss of our brave Indian soldiers who fought valiant battles to reclaim the heights of Kargil. Dr Mukund Mohan briefly described the events that occurred in Kargil war.
Key points of Dr Mukund Mohan's Speech:
The Kargil War was prompted by the Pakistan Army intruding into India across the Line of Control and capturing strategic mountain peaks.
The intrusion was first detected in May 1999, but at that time it was assumed that the intruders were militants or terrorists and not regular Pakistan Army troops.
Over the next few weeks, as, it became apparent that it was actually the Pakistan Army that had intruded across the Line of Control.
In response, India launched a military and diplomatic blitz, pushing the Pakistani intruders off the captured heights and isolating Islamabad on a global level.
India recaptured all the peaks by July 26, 1999, bringing the Kargil conflict to an end.
More than 500 Indian soldiers died in the Kargil War.
Following the speech we had patriotic group songs sung by our talented students and a skit with a message that the duty for the nation prevails above all personal sentiments. Finally, everyone stood with pride and sang our national anthem.
May this victory flame and the journey of the eternal flame from the Kargil War Memorial bring alive the theme of the 20th anniversary of the Kargil Vijay Diwas -'Remember, Rejoice and Renew'. We 'remember' our martyrs by revisiting their sacrifices, we 'rejoice' by celebrating the victory in Kargil and we 'renew' our resolve to safeguard the honour of the Tricolour.