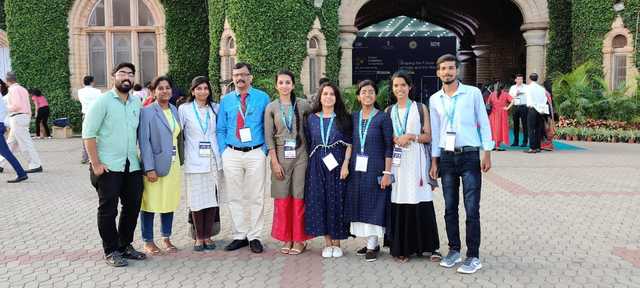 Overview of IPR Regime in India
Date: 26-28th November 2019
Krupanidhi college of pharmacy Mpharmacy led by Prof. Dr.S.V Rajendra(HOD - Dept of Pharmacology). Students got an oppurtunity from Karnataka State Council for Science & Technology Intellectual Property Cell (KGI-KSCST IP Cell) to explore GLOBAL EXHIBITION on SERVICES (The INDIAN opportunity) which was held between 26-28th November 2019 at Bangalore Palace. The main focus of the exhibition was on the Indian Services under the Make in India Scheme of our Prime Minister Shri Narendra Modi which emphasized on the facilities provided by the various sectors all over India. The main attraction was the session of "Overview of Intellectual Property Rights Regime in INDIA" on 27th November from 2.30-4.30 pm at Conference Hall no.3 which was organized by the CIPAM, DPIIT, in collaboration with CGPDTM and CII. Students had a glance of the exhibitions that was held which showcased the various facilities offered by various sectors that included Hospitality, Tourism, Education , Travel , Banking, Photography and many more. The multi-purpose use of the drone in critical conditions, the newer trends in the banking facilities, the various courses offered by the universities and many more were showcased in the exhibition. The afternoon session of the conference started at 2.30pm where the CIPAM members introduced the gathering and the dignitaries RAMAKRISHNA, HEMANT KUMAR, and ASHISH KUMAR.
Hemant kumar the expert in the domain gave an opening speech about the IPR who also emphasized on the scope of the IPR filing and also gave the glance on the WIPO . Ramakrishna.T the Professor of Law gave the statistical count of the Patent filing all over the globe and encouraged the young minds to have more patents which was truly inspiring. The increased efficacy of IPO working. Followed by him Ashish kumar gave his ideologies on the WIPO, PCT filing , Patent Benefits and the recent facilities offered by the IPO society.
The other topics under the patent filing as trademark, copyrights , sections and designs were elaborated by Vivek Anand , Sindhuja and other experts from the National law school . The session winded up at 4.30pm with an insight about the IPR and the grants sanctioned for the researchers . They also gave us goodies with the some activities and take home messages. The session winded up with some amazing sessions with a great hospitality.