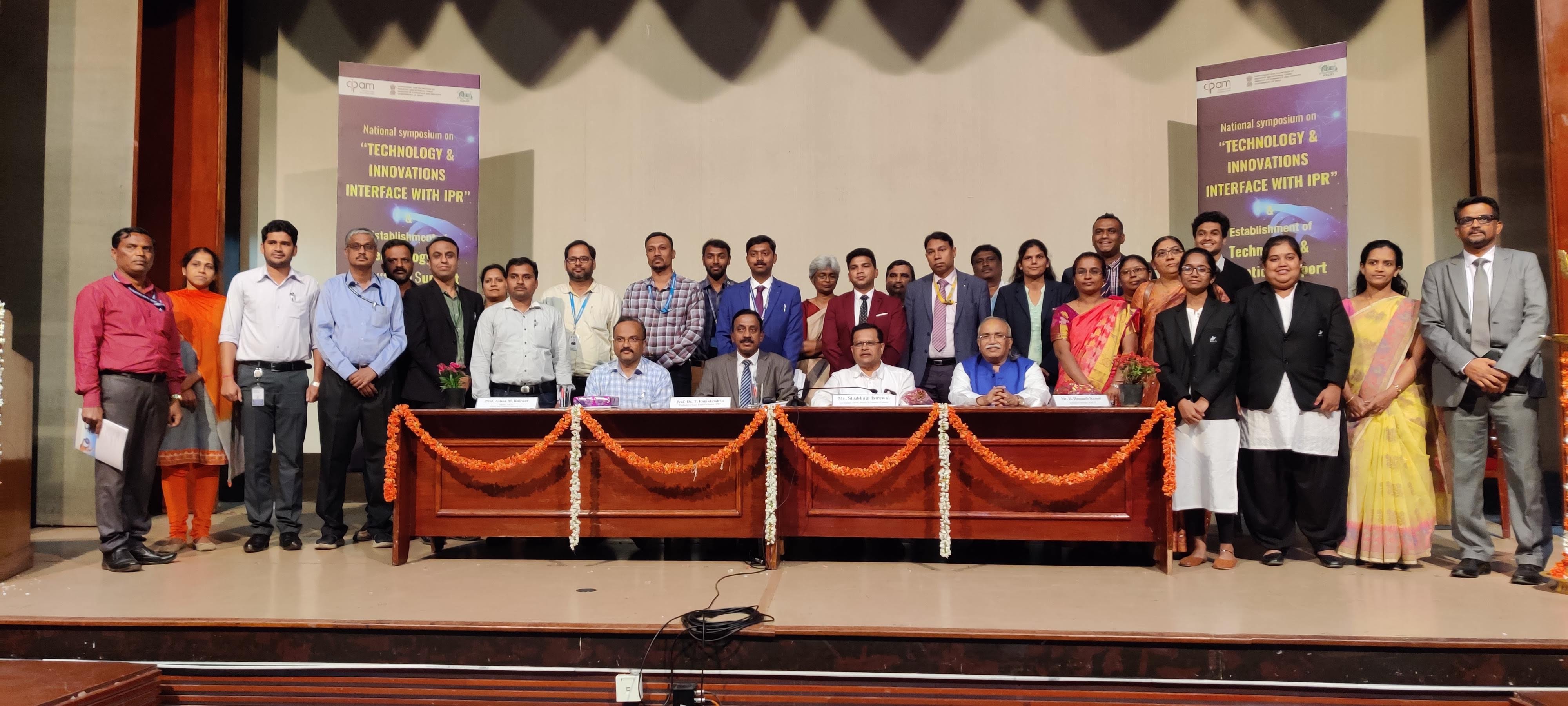 National Symposium on Technology & Innovations its interface with IPR
Date: 28th Jan 2020
We would like to convey our gratitude to the CIPAM and KSCST team for inviting us for the National Symposium on Technology and Innovations Interface with IPR and Opening ceremony of Technology and Innovation Support Centre(TISC) which was held at Satish Dhawan Auditorium, KSCST , IISc Campus on 28th January 2020.
Dr.Khalid, Dr.Arshad, Dr.Gnanavel headed the team of Mpharm students comprised of 7 members representing the KGI-KSCST IP Cell.
The session started with the inauguration of the event with the presence of eminent personalities like Mr.H. Hemanth Kumar, Dr. Ashish Kumar , Prof. T. Ramakrishna , Prof. Ashok.M.Raichur who enlightened the audience with their valuable knowledge on IPR.
The main focus of the session was to emphasis on I3P (Innovation,Patent,Publish,Product) concept of Our Prime minister Shri. Narendra Modi as a part of Make in India. The young researchers were encouraged to involve in innovative discoveries and file many patents on the same.
Mr. Shubham Istrewal, (assistant manager CIPAM) along with the Dr. Sarasija Padmanabhan (Patent Agent and AdvisorPIC,KSCST) and Mr.Vivek Anand Sagar (IP Attorney and consultant,KSCST) gave the basic concepts of IP- patent,trademark,GI and designs. It was a myth buster session where it revealed the fact that the patent can be granted to any innovative discovery regardless to the age, sex, position and other factors of the researcher.
The second session was taken up by the Mr.Lokesh (Innomantra consulting private limited) and Mr.M.G.Kodandaram(IRS,NACEN) who threw the lights on the importance of Innovation and intellectual property for MSME's and Startups.
There was a lunch break given post the session where all the delegates were served with the lavish lunch and the platform for networking.
Post- lunch session was carried over by Dr. Binay Kumar Sahu(NRDC, vishakapatanam), Dr. Natarajan V(professor and successful entrepreneur) , Mr.Sanjeeth (BananaIP Council,bengaluru) and Ms. Brinda Verma(Patent agent) who gave audience the knowledge about the IP strategy and its commercialization.
The delegates was awarded with the participation certificate and the queries were appropriately justified by the experts. The entire session was packed with the knowledge gaining regarding the IPR and which also enhanced the zeal in the young researchers for conducting many such researches that can be patentable.