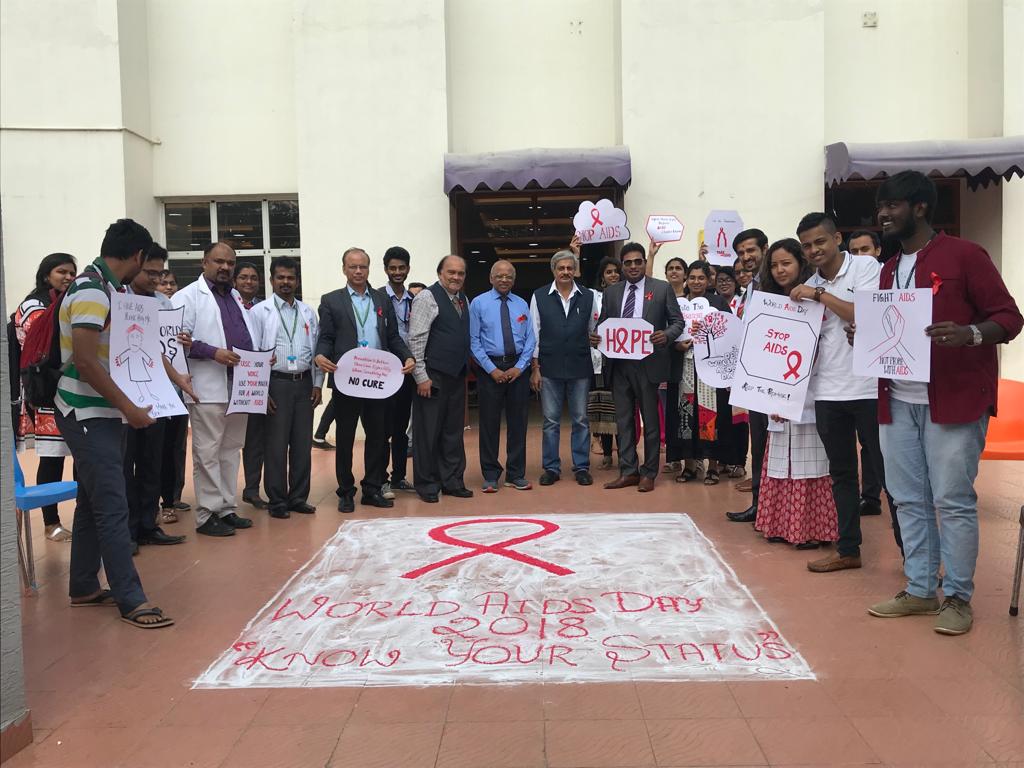 World AIDS Day 2018 Raising AWARENESS, creating HOPE
Date: 1st December 2018
Like they say "charity begins at home", we believe that "education and awareness too begin at home". Hence, on 1st December 2018, Krupanidhi College of Pharmacy took up the responsibility of stirring awareness about HIV and AIDS amongst the staff and students of Krupanidhi Group of Institutions.
Since 1988, the World AIDS Day is observed on 1st of December each year in an effort to stand together in the fight against HIV and to support those living with it. Each year it is celebrated all over the world with great zeal and enthusiasm and this year was no different.
The theme for this year was "Know Your Status".
Although we know so much more about the condition now, social stigma and discrimination still remain a reality for those living with the condition. Health days like these are, hence, observed to remind the people that HIV still exists and we still have a long way to go.
The staffs and students were "Pinned with the AIDS awareness symbol" and informed about the need to propagate the message of "status check" and facts about HIV infection amongst the members in their society.
The non-teaching staff took time off to illustrate the awareness message in form a beautiful "Rangoli" which is an artistic representation of the message using coloured powders.
A Silent march was also held around the campus premises by the staffs and students of pharmacy block including Principal Dr. Amit Kumar Das, Dr. M. D. Karvekar, Prof. Prakash V Mallya and special guest for the day Mr. Jatish N Sheth, Managing Director of Srushti Pharmaceuticals. The march started from ground floor foyer of Pharmacy block and culminated into a gathering( which was joined in by the Campus Director Dr. Sam Paul Isaac) in front of the rangoli, outside the cafeteria after one full circle of the11 acre campus. The marchers were silent put they held placards that spoke volumes on the topic for the spectators to see and soak in.